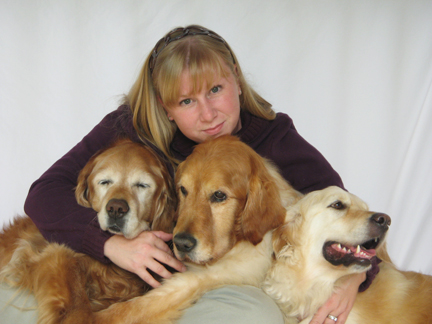 What your dog needs...
Dogs are social animals. They thrive on play and the company of people and other dogs. Daily exercise, socialization and stimulation is very important for your dog's health, and helps prevent many common behavioral problems, such as destructiveness, separation anxiety and excessive barking.
Who we are...
Pooch Pals is a dog walking service that provides for some of these needs, as well as peace of mind to busy pet owners. We specialize in group morning or afternoon adventure hikes through local dog-friendly parks and conservation areas. We also offer private on-leash walks and mid-day "puppy visits".

Our focus is to provide a healthy and safe environment for your pet, while ensuring that your pooch receives needed attention and affection in your absence. If a dog doesn't have the opportunity to exercise and socialize on a regular basis, it will act inappropriately toward people and other dogs. At least two walks daily help prevent these problems. We can provide one of these walks. You come home to a happy dog.

Pooch Pals is a registered member of the Canadian Pet Sitters Association. We are fully bonded and insured. While encouraging basic obedience, we offer only positive re-enforcement during our walks. We pride ourselves on great service for both the owner and animal, and treat all our dogs as though they were our own.
We serve the Durham Region
including Whitby, Brooklin, Ajax and Pickering
About the Top Dog
In 2001 Trish adopted her first dog, Goofy – a sweet golden retriever with a flair for silliness. Trish decided she needed to create a way to spend her days enjoying his company. A born animal lover, she found her true calling when she launched Pooch Pals in 2002. Rain, snow, sleet… you'll find this girl with a smile on her face as long as she's with her 'Pooch Pals' on an adventure. Her canine clients provide her with a constant source of entertainment.

Years later and with two more additions to her canine family, Goofy, Angel & Gracie happily accompany their mom to work on a daily basis. Trish's Golden Retrievers came to her with health concerns so special needs animals are nothing new to her. Her struggle to keep her own critters happy and healthy means that she is always up to date on the latest trends in feeding, medicine and exercise. Her involvement in the animal care community has provided her with a wealth of information and a wide range of professionals to refer her clients to.

For the past 3 years, Trish has happily volunteered for The Canadian Golden Retriever Adoption Service inc. creating quarterly newsletters and always lending a helping hand where needed. An avid photographer, Trish enjoys snapping photos of her 'Pooch Pals' while on their adventures so that pet parents can get a glimpse into their days. Her love of the outdoors spills over into her off time where she enjoys canoeing (with her dogs) and camping (you guessed it, with her dogs)!